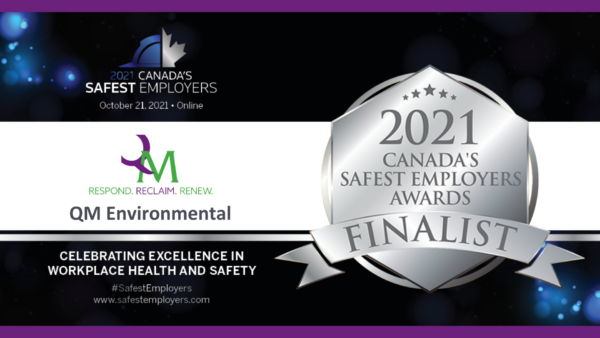 QM Environmental Selected as Finalist for Best Safety Industry Provider in Canada's Safest Employers Awards 2021
Mississauga, Ontario — July 29, 2021 – QM Environmental ("QM" or the "Company"), a leading Canadian environmental and industrial services company, announced that it has been selected as a Finalist for Best Safety Industry Provider in the 11th annual Canada's Safest Employers Awards, the leading independent awards program for the occupational health and safety profession (OHS) in Canada.
Presented by Canadian Occupational Safety magazine, Canada's Safest Employers Awards recognizes the outstanding companies, organizations, OHS professionals and industry service providers from across Canada who went above and beyond in their commitment to workplace health and safety.
"QM Environmental is extremely honoured to be considered as a finalist for Canada's Safest Employer Award – Best Safety Industry Provider 2021.  As a partner of choice, we are a team of passionate, diverse people committed to providing the most practical, cost-effective and innovative solutions to the most challenging environmental problems. We're dedicated to working with our clients to determine safe, compliant, and cost-effective resolutions to historical, current, and potential future issues. Done Safely, Without Compromise is one of our core values and a distinct part of company culture. At QM Environmental safety is of paramount importance. It is the filter we use for all decisions. Nothing matters more than protecting the safety and wellbeing of our employees, subcontractors, clients, visitors, and the surrounding community", said Melissa Clarke, Head of Health & Safety, QM Environmental.
Winners will be selected by an independent judging panel of industry experts and then revealed at the celebratory virtual awards show happening on October 21, 2021. The virtual show will also feature live panel discussions with the finalists so attendees can go behind the scenes and engage with the best and brightest in the OHS profession.
 For the complete list of finalists or more event information, visit www.safestemployers.com.
Follow: QM Environmental – LinkedIn/Instagram/Facebook/YouTube
About QM Environmental:
QM Environmental is a leading environmental and industrial services company with offices and qualified teams strategically located across Canada to provide end-to-end capabilities to the industries and customers it serves. QM Environmental is a customer-driven organization backed by over 35 years of experience solving the country's most complex environmental challenges through its strong culture of excellence in health and safety, integrity, and quality. QM's services include: Environmental
Remediation, Demolition and Decommissioning, Hazardous Materials Abatement, Emergency Response and Management, Training, Waste Management and Facilities, and Water Treatment.
Learn more at www.QMenv.com
Media Inquiries
[email protected], T. 416.525.4045
About Canadian Occupational Safety:
For almost sixty years, Canadian Occupational Safety has been the premier publication on occupational health and safety in Canada. In each issue, readers get a compelling mix of practical, informative, high-quality articles to help them in their work as health and safety professionals. Canadian Occupational Safety covers a wide range of topics ranging from office to heavy industry and from general safety management to specific workplace hazards. The print publication is distributed to 14,000 occupational health and safety professionals across Canada. Canadian Occupational Safety is also the official publication behind Canada's Safest Employers Awards. Launched in 2011, the event recognizes companies from across Canada with outstanding accomplishments in promoting the health and safety of their workers.
For more information, contact Krissy Salvador (Marketing Manager) at [email protected].