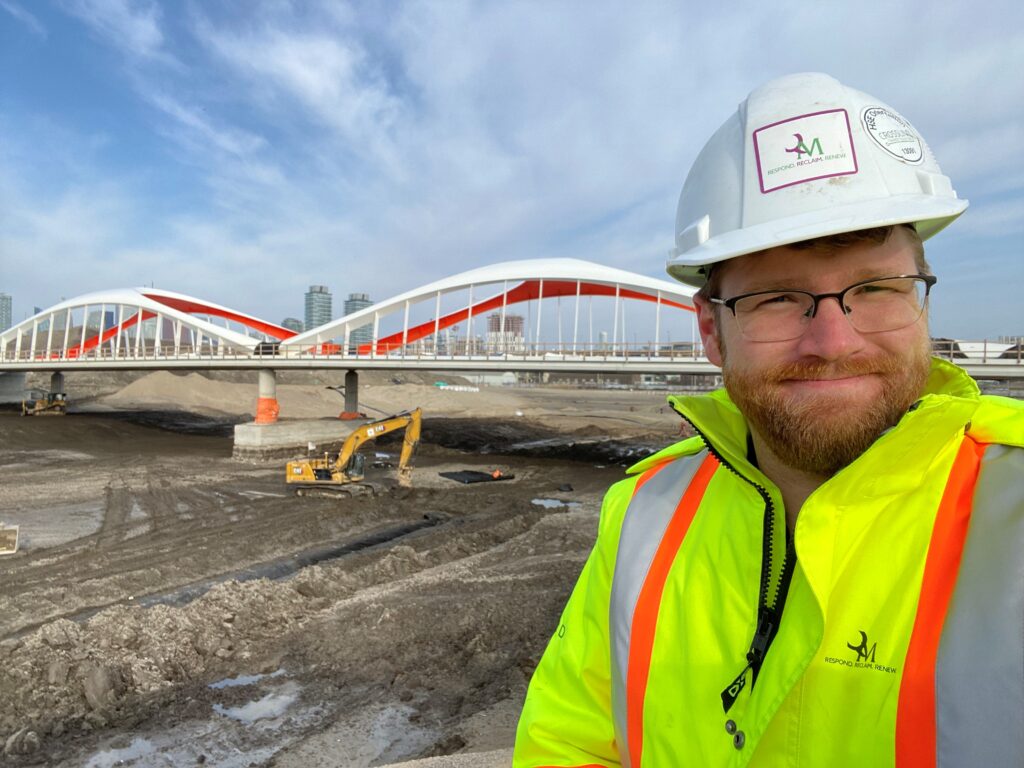 QM Environmental's Nicholas Doucette, National Manager, Special Projects
The HUB (Heroes Underpinning Brownfields) Awards is presented by The Canadian Brownfields Network (CBN) to recognize brownfields who are making a substantial impact on the progress of brownfield redevelopment in Canada. On April 6th three awards were presented by the CBN, each allocated to correspond to a different stage of career growth within the brownfield industry: Foundation, Pillar, and Vision.
For the 2022 HUB Awards, QM Environmental's Nicholas Doucette, National Manager- Special Projects was awarded the Vision Award. This award is presented to the individual who is providing valuable insight into programs, practices, and policies that will further improve how brownfield redevelopment in Canada is accomplished.
Nick was not only selected externally by CBN but has also been deemed an internal champion within QM for his efforts. Upon conducting employee engagement surveys, QM asked its employees to recognize one employee who motivated them to perform their best. Nick had the most votes in this section for both 2020 and 2021, giving him the number one motivator title within QM Environmental.
Congratulations to Nicholas Doucette on the Vision HUB Award, and on behalf of QM, thank you for continuously motivating others to be their best!
About Nicholas Doucette:
Nicholas Doucette, P.Eng., QM's National Manager for Special Projects, is a passionate advocate for innovation in the pursuit of safer, more sustainable environmental remediation projects. He has applied his civil engineering education from the University of Waterloo and the Swiss Federal Institute of Technology to some of Canada's most important and challenging environmental projects, from the Sydney Tar Ponds in Nova Scotia to the Rock Bay site in Victoria, B.C. Nick's areas of expertise include: Large Scale Multi-Disciplinary Projects; Water Treatment; Project Controls; and Design-Build Delivery. He currently leads QM's Toronto Port Lands Flood Protection and Enabling Infrastructure Project portfolio, presently valued at over $150 million.

Visit QM's Remediation Division Page at: https://www.qmenv.com/expertise/environmental-remediation/
About CBN (Canadian Brownfields Network):
The CBN was officially launched on March 1, 2004, and was created in response to recommendations in the National Roundtable on the Environment and the Economy's National Brownfield Redevelopment Strategy for Canada. The CBN was founded by the Ontario Centre for Environmental Technology Advancement (OCETA) and the Canadian Urban Institute (CUI).  It was federally incorporated in 2009 and now operates as an independent, autonomous not-for-profit national organization.
The CBN operates with a Board of Directors providing the framework and structure for daily operations. The CBN executives include members from the founding organizations. The vision of the CBN is that brownfield property reuse be the preferred solution by developers.