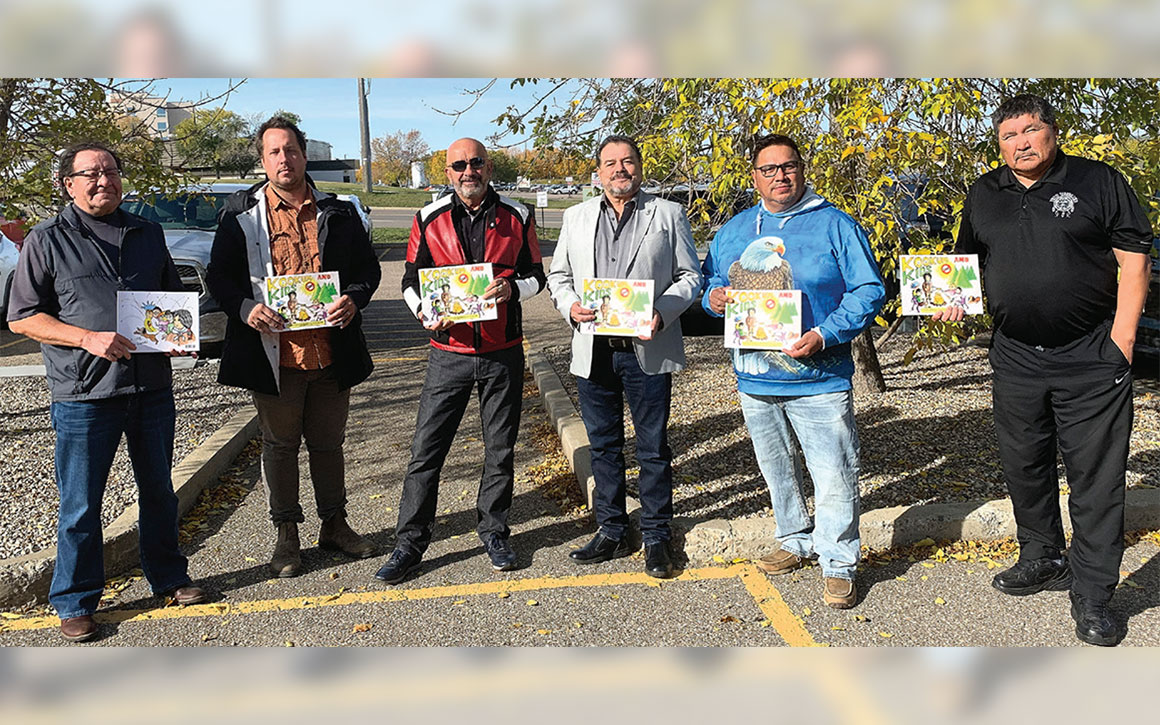 The Kookum and Kids colouring books were presented to the Prince Albert Grand Council executive on September 29. In the photo from left to right are: Al Ducharme, Executive Director, PAGC; Kyle Remus, QM Points; Rick Langlais, Hands On Outreach and Development Centre Inc.; Glen Strong, QM Points/Points Athabasca representative; PAGC Vice-Chief Christopher Jobb, PAGC Grand Chief Brian Hardlotte.
Rick Langlais and Glen Strong have turned their talents towards using colouring books as a teaching tool in dealing with difficult-to-broach issues.
Langlais is the founder and executive director of the Hands On Outreach and Development Centre in Saskatoon, and got inspired to take on the issue of bullying. It soon led him to the idea of creating a colouring book about it. He turned to Glen Strong, a Metis illustrator, to collaborate with him.
Langlais and Strong found that children and youth in northern communities were struggling with issues such as bullying and suicide, and that the effects were devastating. Racism was also an issue.
They thought that perhaps there could be a way to introduce the topics to children, but on a lighter basis. And voila! Langlais and Strong have now developed three colouring books for children from Grades 1 to 3 to tackle difficult subjects and use relatable characters including a Kokum (grandmother).
The first book dealt with bullying, the second racism and the most recent one, on suicide. Langlais said they struggled with the colouring book on suicide the longest, spending three months discussing different ways of presenting it in a gentle-enough manner for children in Grades 1-3 to understand, but with yet enough substance to make it a teachable subject.
Langlais said he raised money through donations to publish the colouring books.
On September 29, 2020, Langlais and his Hands On Outreach, along with QM Points – a partnership between QM Environmental and Points Athabasca, Strong's employer – donated 27 boxes of colouring books, over 1200 in total, to PAGC Schools.
The colouring books are an interactive edition used to address the issue of suicide to children in Kindergarten to Grade 4. This donation coincided with National Suicide Prevention Day.
PAGC plans to incorporate Elders to work with the kids when they use the colouring books in class to gently guide them on the subject of suicide.
Langlais and Strong have plans to continue the colouring book series with the same relatable characters to teach more lessons, but next time about positive characteristics like integrity, respect and humility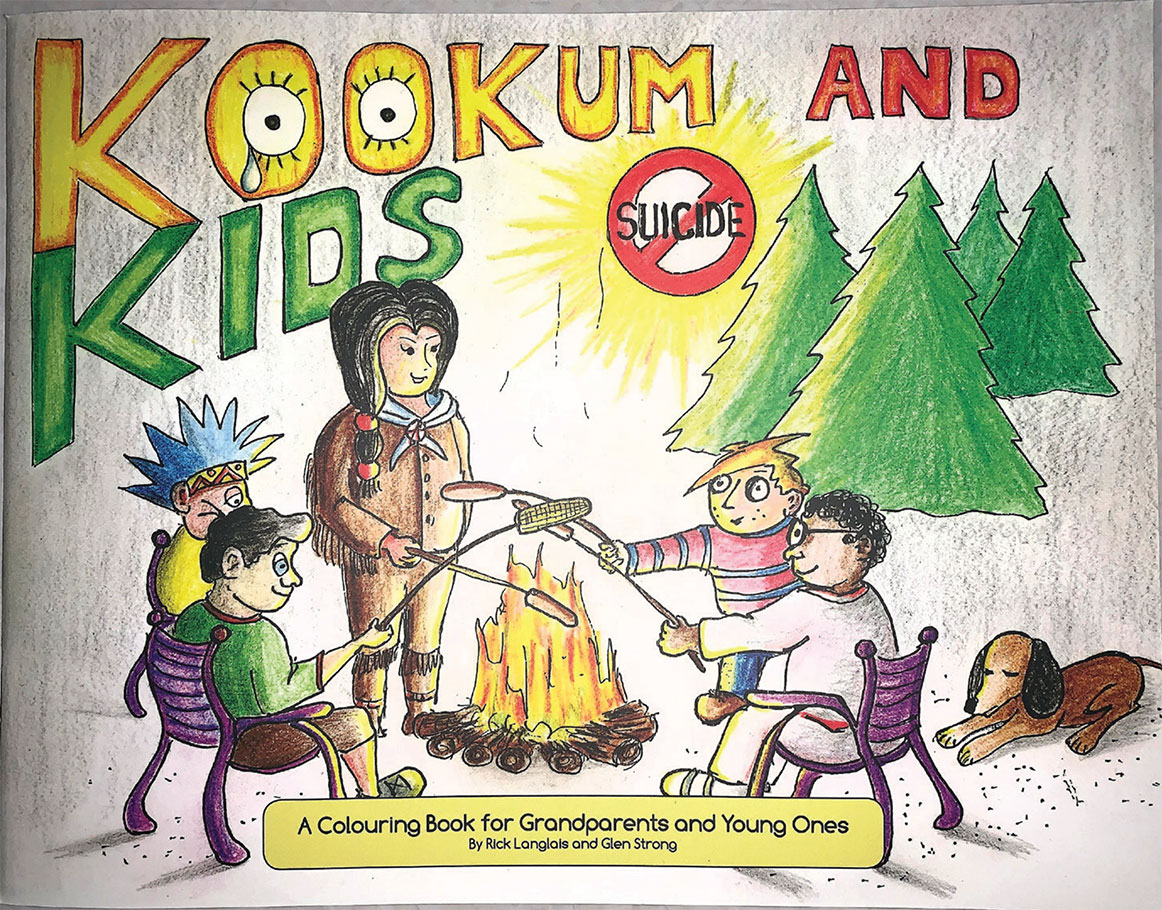 The Kookum and Kids colouring book on the issue of suicide, by Rick Langlais and Glen Strong.
It is the third such book in a series on how children can be approached to understand difficult life issues.