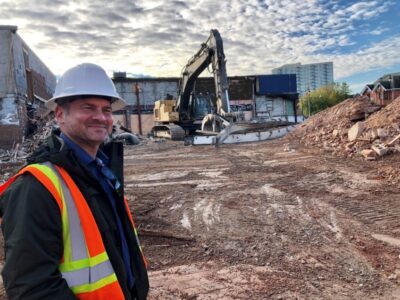 The strategic demotion of much of a city block attracts a steady stream of onlookers in downtown Barrie."I'd love to go in there and do some picking," says one passerby, watching as yet another piece of metal drops from the claw of an excavator on the south side of what was once known as the Theatre Block.It's hard to imagine anything of value as the rubble piles up on organized heaps where restaurants, stores and barber shops plied a succession of businesses for more than a century in an evolving mix of low-rise buildings.

As a demolition crew makes room for the first of two 32-storey condominium complexes, there has been the odd find, however. An old projector and some classic old 35-millimetre film reels were left among the remains in the former Imperial Theatre, recently known as the Uptown Theatre, Antonio Bruno explains.

But it wasn't valuables the crew was necessarily keeping an eye out for during the eight-week pre-demolition stage. Bruno, vice-president of the demolition group for QM Environmental, tells BarrieToday the focus was on mitigating any risk, identifying concerns like asbestos and developing a methodology of how the buildings would safely come down.

"Before we actually start exterior demo, we get inside and have a look and see how the structure was put together," says Angelo Renzulli, senior project manager.

From there an engineered demolition procedure is developed. The plan takes into account the structural integrity of each building and their add-ons. Drywall and interior components are also removed so they're not mixed with the construction material during the exterior demolition process.

A priority of the eight-week pre-demolition stage was asbestos abatement, ensuring that material identified and quantified in an earlier designated substances report resulting from testing of the interior components is removed before any demolition begins.

Although crew members donned head-to-toe protective garb during a containment process to remove every section of asbestos from the theatre building, segregating it for safe disposal, they each then took to the showers, which had been temporarily built on the site.

"These are a bunch of buildings that have been laminated to the other or built on top of or built over and that's why you have all these different make up of materials" which are then separated, says Bruno.

As the buildings are demolished, what can be recycled is set aside in piles to be recycled. Ferrous and non-ferrous steel is separated, there are piles for concrete and brick as well as construction debris.

Once the land is cleared to ground level, the work begins on dismantling the foundations. That concrete and block will also be repurposed after it is crushed to be used as backfill material.

Now about halfway through stage one of the demolition, the crew will soon focus on disassembling the theatre, which leads to the next part of the abatement process.

A second-storey block addition to the theatre will require some meticulous manual work. The blue blocks, Bruno says, are filled with vermiculite insulation containing asbestos fibres.

"We can't just drop that block on the floor because you'll just cross-contaminate everything and you don't want asbestos to be airborne. So what we're going to do is remove every block by hand," he says.

In the rubble already on the ground are clues from the past. A large section of timber bears gouges likely created when it was hand-hewn from a log 80 to 100 years ago, Bruno figures.

Then he points to old wood planking which, on its own, would have been nicely preserved. But as buildings and floors were added, the planking was used as the foundation for the next stage and covered with tar.

"Once we've got all the building foundations gone and we basically bring it back to what would be considered somewhat of an original state before there were buildings put in here," says Bruno. "We're an environmental company that takes property like this and cleans them up so that it's got a positive environmental impact on the community.

"In some instances like this, where there's really no designation, it's been one add-on after another after another. This is actually becoming one of those buildings that if you don't do something with it soon, it's going to be a problem," he says.

Soil samples have been taken for testing to determine if there is any contamination that requires disposal and then the area is back-filled and will be ready for redevelopment.

The dismantling of the low-rise buildings on Dunlop Street West began earlier in October and is expected to continue straight through November.

The four-year plan for much of the block includes two 32-storey condo towers with 30-feet high, street-level retail and a link to a future market area which is currently occupied by the city's transit terminal.
Source: https://www.barrietoday.com/local-news/the-meticulous-deconstruciton-of-a-downtown-block-4695420
Visit QM's Demolition Web Page: https://www.qmenv.com/expertise/demolition-decommissioning/