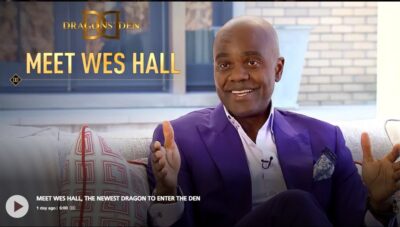 We're thrilled to announce a new Dragon for the newest season of Dragons' Den: Wes Hall!
WES IS THE FIXER.
From giant mergers and acquisitions at the top of corporate Canada, to boldly fighting systemic racism — Wes makes big things happen.
As the founder of Kingsdale Advisors, Wes has earned himself the title of one of North America's most influential power brokers. He's orchestrated multi-billion-dollar deals for Air Canada, Citigroup, Tim Hortons and Petro Canada, and he sits at #16 on Maclean's Power List, a ranking of 50 influential Canadians.
Wes is at the top of his game, recognized for his custom suits, fast cars and a bravado that he says is critical to success. But the path to his stately home in an upscale Toronto neighbourhood wasn't an easy one. Born in rural Jamaica, he was raised by his grandmother in a tin shack, along with his 13 siblings. He says he learned entrepreneurship by watching his grandmother work multiple jobs all his life; this taught him that with hard work, anything is possible.
He moved to Canada in his teens, and by 18 had started a string of jobs while he put himself through university (such as cleaner, security guard and chicken catcher) that would eventually take him to the mailroom of a law office on Bay Street. As he worked his way up the corporate ladder, one thing was obvious: "When I go into a boardroom, there's generally no one that looks like me. I wanted to change that."
In 2002, at the age of 34, he made that happen by founding Kingsdale Advisors. "I was never invited into the boardroom, so I had to create my own. I created my own company from the ground up. I was employee number one and I built it to become the best and the top firm in the country."
Now that Wes has made it to the top, he is dedicated to forging a less difficult path for the next generation of Black leaders. He recently founded BlackNorth Initiative, challenging major companies to remove anti-Black systemic barriers.
He is also the owner of QM Environmental, a leading national environment and industrial services provider, and The Harbor Club hotel, one of St Lucia's premier resorts.
Wes lives in Toronto with his wife, their five kids and a new puppy.
Source: https://www.cbc.ca/dragonsden/blog/meet-new-dragon-wes-hall