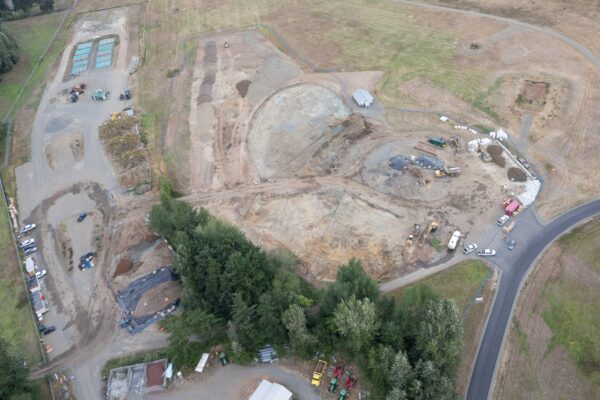 Mississauga, Ontario — December 1, 2021 – QM Environmental ("QM" or the "Company "), a leading Canadian environmental and industrial services company, announced that it was recently accredited as an approved installer for CETCO's line of FLUOR-OSORB® Adsorbent Products. These engineered adsorptive products are specifically designed for the effective treatment of Per- and Polyfluoroalkyl substances (PFAS), adsorbing 2-4 times the mass of PFAS compared to Granular Activated Carbon (GAC).
QM Environmental is able to deploy FLUORO-SORB Adsorbent in a wide variety of configurations for the active and passive treatment of PFAS compounds (in-situ and ex-situ) to remediate surface water, groundwater, sediments, and soils contaminated with PFAS.
This approval provides unique advantages to QM Environmental in purchasing and technology delivery while reflecting QM's expertise in designing and delivering effective treatment solutions for complex environmental challenges.
"The high performance and flexibility of treatment approaches that the FLUORO-SORB Adsorbent product line provides meshes extremely well with QM's technical approach to delivering PFAS solutions. Working with QM made us feel comfortable that field implementation would be completed effectively using best management practices to maximize the performance of our products. Having strong installers such as QM moves us forward in our goal of delivering proven solutions for PFAS management on the ground today and into the future." – Matt Geary, Technical Sales Manager, CETCO
CETCO'S recognition and support of QM's capacity to deliver FLUORO-SORB products ensure the clients of both CETCO and QM that the design, installation, operation, and application of this unique PFAS treatment technology is following best management practices to ensure project success.
"We understand that no two water chemistries, site constraints, and environmental goals are the same, and our approaches need to reflect these site-specific challenges. FLUORO-SORB Adsorbent provides flexibility in application, improving our ability to respond cost-effectively to our client's PFAS treatment and remediation needs.  This relationship with CETCO will ensure both our clients are receiving exceptional products and services to manage PFAS contamination." – Ben Sweet, Director of Environmental Technologies, QM Environmental
Visit: QM Environmental's Water Treatment Page
Follow: QM Environmental – LinkedIn/Instagram/Facebook/YouTube
About QM Environmental:
QM Environmental is a leading environmental and industrial services company with offices and qualified teams strategically located across Canada to provide end-to-end capabilities to the industries and customers it serves. QM Environmental is a customer-driven organization backed by over 35 years of experience solving the country's most complex environmental challenges through its strong culture of excellence in health and safety, integrity, and quality. QM's services include: Environmental
Remediation, Demolition and Decommissioning, Hazardous Materials Abatement, Emergency Response and Management, Training, Waste Management and Facilities, and Water Treatment.
Learn more at www.QMenv.com
Water Treatment & FLUOR-OSORB® Adsorbent Products Inquiries:
Ben Sweet
[email protected] T.506.721.9214
About CETCO:
CETCO is the construction technologies business unit of Minerals Technologies Incorporated. Their international team of clay mineralogists, chemists and polymer scientists transforms ordinary minerals into extraordinary technology.
Learn more at:
https://www.mineralstech.com/business-segments/performance-materials/cetco