Coal Gasification Plant – Stopping the Spread
The clean-up of a former coal gasification plant in Rock Bay, BC has been one of the most significant remediation projects in Canadian history. In 2004, when the project got underway, the true magnitude of the clean-up efforts could not be known.
In the early 1860s, a coal gasification facility, owned by Victoria Gas and later BC Electric, operated at the site. Coal tar, the main waste product, was dumped directly into the uplands area including the surrounding harbour, which had a significant environmental impact on the future use of the land and water. Soil, groundwater and harbour sediments all carried the toxic coal tar chemicals, which seeped throughout the land for the next 150 years.
Challenge
The Rock Bay project required QM and its partners to conduct the environmental remediation of 1.73 hectares of uplands and 2.02 hectares of harbour floor. A detailed environmental assessment of the site concluded that approximately 85% of this land was contaminated with coal tar, metals and other hydrocarbons. Brick, wood, concrete, and other miscellaneous waste materials also littered the area. Air quality, as well as ground and surface water impacts, were also of serious concern. Adding to the complexity were fish and wildlife habitats, as well as heritage and archaeological claims in the area. In addition, some of the buildings on the property had hazardous materials that required removal.
An Integrated Approach
QM was the prime contractor involved in the major aspects of the environmental remediation process for the Rock Bay initiatives – Stages 1, 2 and later Stage 3, as well as removing hazardous materials from existing buildings and structures.
A Thorough Plan
An integrated implementation plan was completed upon project commencement, which included an Environmental Protection Plan, Excavation Plan, Water Management Plan, Shoring and Cofferdam Design and Drawings, Health and Safety Plan and other pertinent submittals.
Construction efforts first began and continued with a cofferdam built over the contaminated bay to seal it from the rest of the harbour and prevent water infiltration during the process. In addition, construction of the temporary support walls and outfall bypasses for the two outfalls that drain into Rock Bay were completed. Approximately two million litres of water will be pumped out from the bay to expose and excavate the seabed below in dry conditions.
Treating the Problem
An on-site waste water treatment facility was designed and constructed, which treated waste water and returned that water to the Harbour. All contaminated soil and sediment was sent for off-site treatment by truck and barge to be approved, off-site treatment and disposal facilities.
Results
During Stages 1 and 2, QM's commitment resulted in the following positive outcomes for the area:
Treatment and disposal of approximately 7,000,000 L of hydrocarbon and metal impacted groundwater;

Excavation and restoration of approximately 40,000 tonnes of special waste;

Excavation and restoration of 60,000 tonnes of non-special waste soil and materials (ie. inorganic debris); and

Transportation and disposal of approximately 70,000 tonnes of soil with various types and levels of contaminants.

Footings and foundations were removed to 1.5m below grade and all concrete was processed to 6″ minus with rebar removed. The concrete was stockpiled onsite for further re-use.
After the completion of Stage 3, QM planned and implemented the custom design and build of innovative, real-time, and cost effective solutions, including:
Remediation of 90,000 tonnes of contaminated sediments;

Construction of a healthier environment for aquatic life; and

Completion of the final, most challenging stage that spanned over 20 years.
Project Info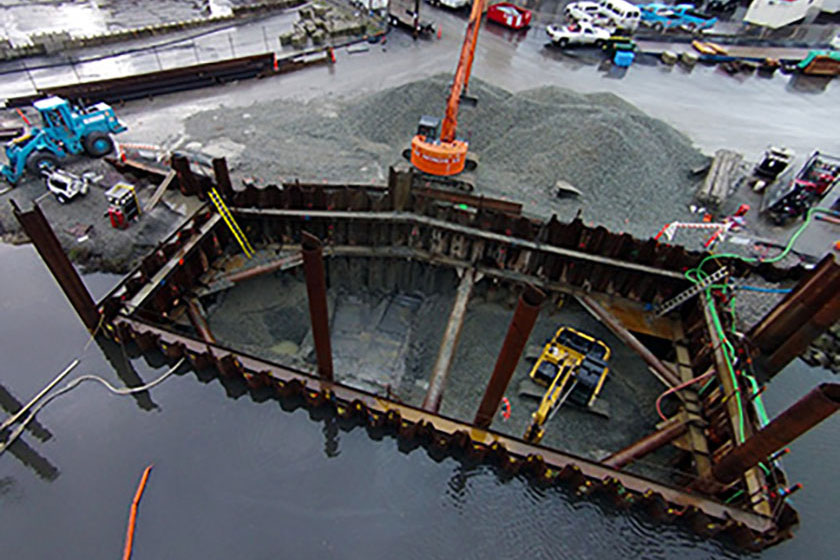 Client:
Transport Canada, BC Hydro
Location:
Rock Bay, British Columbia
Services Used:
Environmental Remediation, Hazardous Materials Abatement, Water Treatment
Timeframe:
2004-2015
Project Value:
$60 Million