QM Environmental was awarded the RFP 33.6 Subcontract as part of the Portlands Flood Protection and Enabling Infrastructure project in Toronto. 
The scope of work involved:
Demolition of a historic dockwall

Dry and wet excavation, including dredging

Management and tracking of excavated material

Underwater placement of marine geotextile

Underwater placement of a subaqueous barrier layer comprised of granular activated carbon

Placement of river finishes 
QM Environmental conducted this work using conventional and long-reach excavators from land and a floating barge section. All work was undertaken in a turbidity curtain to prevent turbidity from entering the Toronto harbour. 
QM Environmental Services: 
Dry excavation of over 3000 m3 of material

Wet excavation/dredging of over 13,000 m3 of material

Demolition of over 65m of dockwall

Placement of approximately 3300m2 of marine geotextile underwater

Placement of 3300m2 of a subaqueous barrier layer (granular activated carbon)

Placement of over 2000MT of river finishes, including rip-rap, armour stone and habitat boulders 

State-of-the-art survey using grade control and bathymetric survey techniques to document underwater conditions

State-of-the-art soil tracking and data management using proprietary software

Removal of historical, unknown underwater structures such as timber piles, walers, etc. 

Monitoring of dockwall for vibration during periods of active construction work.
Project Info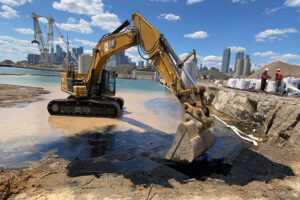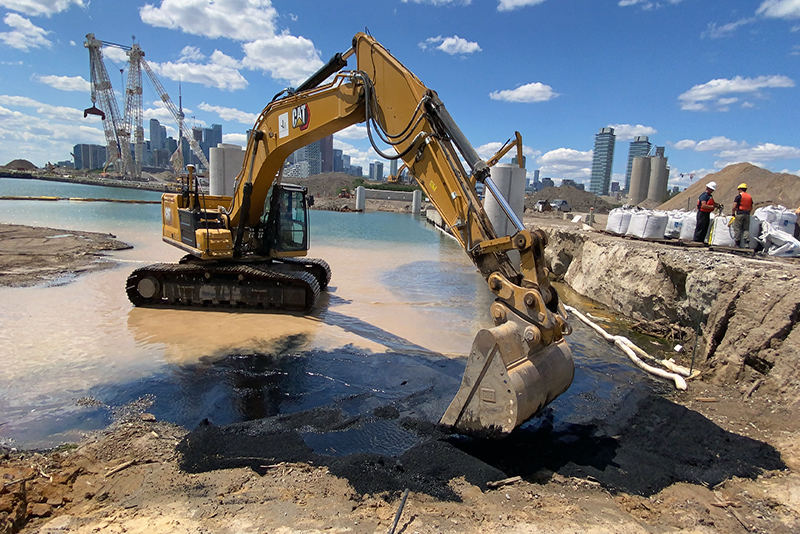 Client:
EllisDon
Project Timeline:
May to August 2021
Project Value:
Confidential
Location:
Toronto, ON