The Canadian Forces Base Comox, situated in the town of Comox, BC, on the east-central coast of Vancouver Island, was originally constructed by the Royal Air Force in 1941 to guard against potential threats during WW2. After its reactivation in 1952, the base became a permanent fixture of Canada's defence infrastructure. Training exercises utilizing aqueous film forming foam (AFFF) were performed at the Fire Fighter Training Area (FFTA) from the early 1970s to 2005, contaminating the land with PFA's compounds.

QM Environmental Services: 
From April to December 2021, QM Environmental provided the following services to the client:
Water treatment.
Excavation of 23,500 cubic metres of contaminated soils.
Import and placement of 53,000 tonnes of import backfill.
Thermal destruction of 24,000 tonnes of soil.
Disposal of thermally treated soil at a lined landfill.
Stabilization of 22,000 tonnes of soil.
Site restoration and construction of new bioswale.
Relocation of wildlife species
After the remedial works were completed, QM designed and constructed a new surface that would act as a cap while allowing firefighters to carry out training scenarios.
Project Info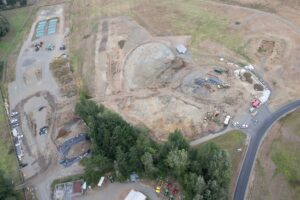 Client:
Public Services and Procurement Canada (PSPC)
Project Timeline:
April – December 2021
Project Value:
Confidential
Location:
Comox, BC