During 2021 and 2022, our hazmat abatement crews have worked over 40,000 person-hours to safely remove and dispose of over 600 metric tonnes of asbestos-containing material (ACM) from the 4-storey, 3-wing concrete building built 50 years ago that formerly housed a 235-bed senior care facility.
QM Environmental Services & Solutions
Some of the hazardous materials removed include:
· >300,000 SF of asbestos-containing drywall;
· >150,000 SF of asbestos-containing ceiling texture coat on concrete; and
· Asbestos-containing vinyl sheet flooring, floor tile, levelling compound, duct mastic & mechanical pipe insulation throughout.
Crews have abated and stripped the building to "shell" condition before commencing the structural demolition. Manually segregating waste streams ensures the highest standard of recycling. Leaving only the concrete frame enables an expedited demo since there is no commingling of waste, only concrete & reinforcing steel or "rebar" left to demolish, process, sort and load out for recycling.
This site will be free and clear of all contaminants and debris in under three months and ready for future redevelopment.
Local First Nation crew members represent nearly 20% of all labour hours on this project. Working closely with employment and training managers and Nation staff, we trained and hired new HazMat workers while also identifying experienced workers from Communities across the region. This approach was pivotal to the success of this project.
For more information regarding QM's HAZMAT services, visit our Hazardous Abatement Materials Page.
Project Info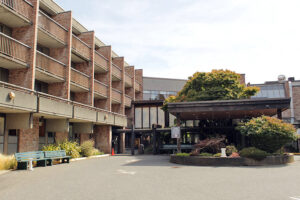 Client:
Confidential
Project Timeline:
2021 – 2022
Location:
Victoria, British Columbia