Abatement and Demolition
QM Environmental was awarded the contract to convert an existing iconic 13-storey hotel tower and 4 stories below grade into residential rental units (to be known as "The James at Harbour Towers") located in the downtown harbour of Victoria, BC.
Project Scope
QM Environmental performed hazardous material abatement of the entire building, demolition and strip out of all existing hotel suites, demolition of walls and removal of all existing windows, and demolition and removal of slab sections.
Our Services
Specific QM services and solutions included the following, among others:
QM performed hazardous materials abatement of all asbestos-containing finishings throughout, including drywall, textured ceiling, flooring, roofing, exterior stucco, and vermiculite insulation within cinder block walls.

Clean strip out of all existing hotel suites, convention center and restaurant to structure "shell condition" including demolition and disposal / recycle of all walls and mechanical and electrical systems.

Removal and disposal of all windows (438) using swing stages and engineered scaffolding wrapping the exterior of the north and south penthouse elevations.

Removal and recycle of suspended concrete slabs using "brokk" remote controlled robotic excavators.

Concrete wall saw cutting to facilitate new door openings throughout.

An innovative engineered waste chute was installed from a 13th floor balcony to the main floor. Barn doors were installed on the main floor hoarding and the suspended slab was shored on the lower parking levels to allow a controlled "drop zone" under negative air for 40 yard bins to be staged and receive asbestos-containing material. This greatly reduced the amount of required packaging of ACM and reduced the potential health & safety and exposure risks to having to stage waste bins on the street in a busy urban environment.
Results
This project was completed safely, on time and on budget, to the complete satisfaction of the client.
Project Info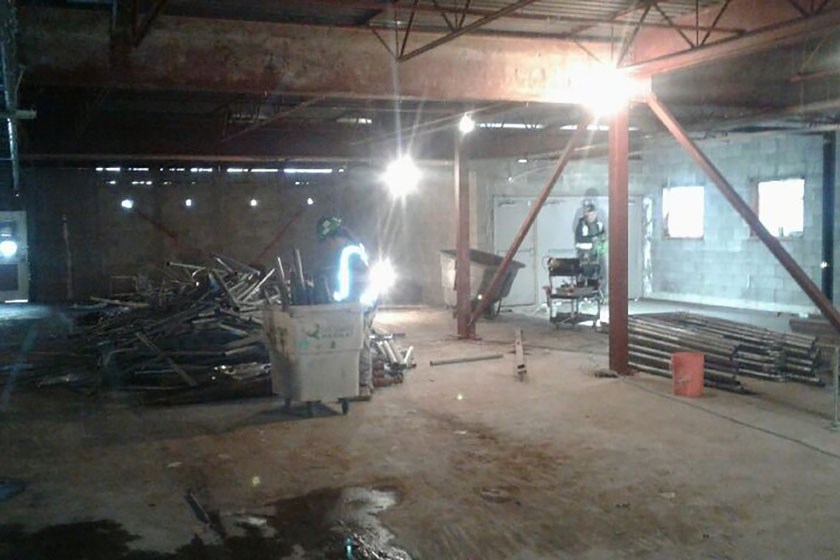 Client:
Omnicron Consulting Ltd.
Location:
Victoria, BC
Services Used:
Hazardous Materials Abatement, Demolition
Timeframe:
February – December 2018
Project Value:
$3.7 Million