Motor Vehicle Accident – Completing the Impossible
Highway 63 in Northern Alberta is a busy stretch of highway connecting the communities of the Athabasca Oil Sands. As the main artery feeding in and out of oil industry hotspots like Fort McMurray, Highway 63 is travelled frequently by heavy equipment, tractor trailors and other vehicles servicing the industry. The combination of high traffic volumes and an insufficient single lane in both directions has proved fatal in many instances.
In 2014, QM became part of a team of first responders at a Highway 63 accident between two tractor trailers. QM quickly took the lead, assisting in the assessment and clean up of gasoline and diesel leaks which threatened further harm to an already terrible situation.
Challenge
Highway 63 is located in a very environmentally sensitive area, passing through Northern Alberta's forests, farms and parklands. The accident site itself was close to natural springs and fish-bearing bodies of water, so timely action was required.
Because of the time of year, spring run-off was also putting pressure on the clean-up crew as it seeped directly into marshlands at the heart of the forest, limiting options and impeding progress. The run-off also threatened not only to spread the accident's oil and gas hydrocarbons, but also to wash away the road itself. It was imperative that provincial road construction already in progress continue on schedule. Remediation work could not set these efforts back.
An Integrated Approach
QM had to mitigate significant risk in a remote, sub-zero location during one of the busiest times of year, while natural water flow patterns limited options. Innovative thinking and rapid action were key.
This project was QM's largest and most complex project of 2014 and serves as a solid example of our client centric focus. Proactively approaching the trucking company to offer their expertise, QM was onsite shortly after the incident, taking control of the immediate risk assessment and all logistics thereafter. Working with the trucking company, insurance company, RCMP and Alberta Environment, QM became the lead party managing the response plan, from closing roads to traffic, to tracking fuel leaks, to monitoring air quality and mitigating all environmental risks.
The particular circumstances of this project often meant small decision making windows with huge implications. As a result, QM secured 25 trucks, 12 400-barrel tanks, and accommodations for the required manpower for several months. The team persevered through the isolation while equipment froze in the icy northern conditions. With spring run-off eventually under control, remediation and water treatment efforts could finally be concluded.
Results
Recently reclaimed, the accident site has been declared safe once again. Contaminants have been removed, and the land has been brought back to its pre-incident state. QM Environmental received special recognition for a job well done from the client, one of the largest insurance companies in Canada, and Alberta Environment.
Project Info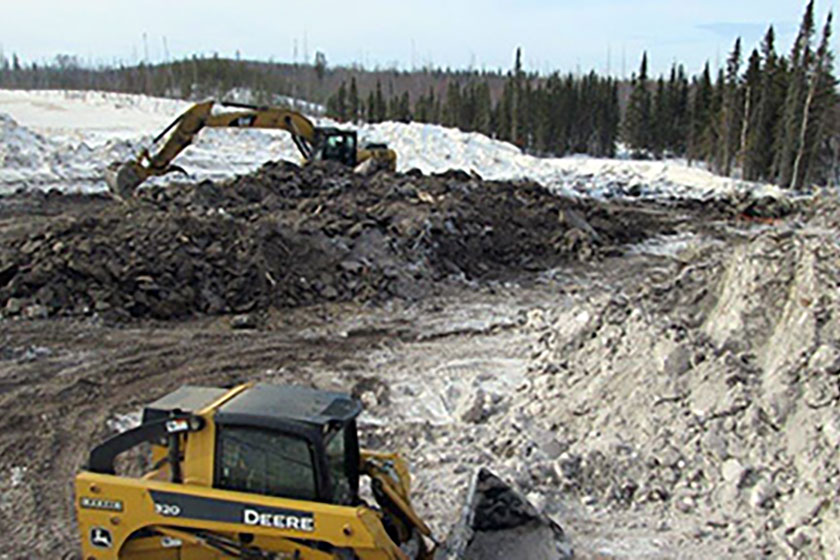 Client:
Northbridge Insurance
Location:
Northern Alberta
Services Used:
Emergency Response, Environmental Remediation, Water Treatment
Timeframe:
February-October 2014
Project Value:
$5.5 Million