Remote Access Remedial Excavation
QM Environmental was awarded the contract to perform the remedial excavation on top of Mount Blenheim, northeast of Bamfield, British Columbia.
Excavation required the removal of 200 tonnes of hydrocarbon impacted soils from a diesel spill. Soils were removed from the site with rock trucks given that access to the site was 4×4 only. Soils were stockpiled at the base of the mountain in a containment cell constructed by QM before being transported to QM's bioremediation facility.
Project Scope
The remote location of this project required careful planning and coordination with local sub-contractors in order to provide on-site services. Work took place in the fall before winter conditions set in.
Under the contract, QM performed the following services, among others:
Extensive health and safety plans due to the lack of accessibility and proximity to nearest hospital. A helicopter evacuation plan was required and carefully developed.

Transportation of crew and materials to site via access roads with minimal maintenance.

Removal of contaminated soils from two areas with complicated excavator access.

Trucking of soils downhill from the site with the use of rock trucks due to the poor condition of access roads.

Constant communication with logging operations in the area via radio.

Construction of holding cell with poly liner to store contaminated soils prior to loading and transporting to bioremediation facility.
Project Info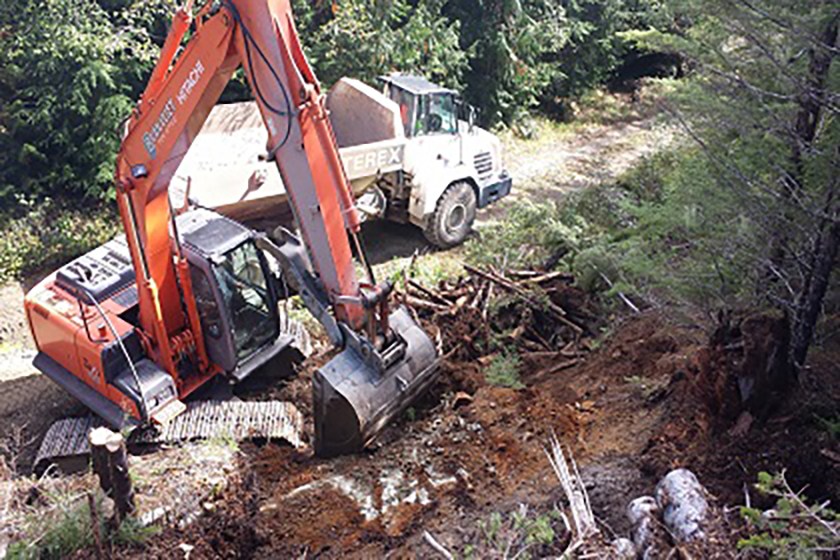 Client:
Pinchin Ltd.
Location:
Bamfield, British Columbia
Services Used:
Remediation, Remedial Excavation
Timeframe:
2017