PCB Storage Site – Ending an Era
Until the discovery of its high toxicity levels, PCB (Polychlorinated Biphenyl) was a synthetic compound used frequently in commercial and industrial applications. In the 1980s, when the chemical was found to be toxic and clean-up efforts got underway, the Pottersburg Creek facility became the landfill site for all of the PCB-contaminated material taken from the area. The chemical had originally been released into the environment by a Westinghouse electrical transformer facility which formerly operated there.
In 2009, stringent federal regulations came into effect – all PCB waste storage sites such as Pottersburg were to be decommissioned. As Pottersburg was the largest PCB storage site in Canada, the undertaking to decommission it became one of the largest PCB removal projects and largest earthmoving projects in Canadian history.
Challenge
Limited Options

Since PCB-contaminated materials were no longer permitted to be landfilled in Canada, the only disposal option available was incineration at a cost of approximately $500-$1000 per ton. With 112,895 tonnes of contaminated soil, sediment, and debris needing to be disposed of at Pottersburg, it was to be a costly venture.
Community Interests

Decisions would not go over without scrutiny as this was a high profile project. With the facility situated in an urban area near residential and commercial properties, health and safety concerns were paramount. Community engagement initiatives would be crucial to progress.
An Integrated Approach
Securing the Site
To begin the daunting clean-up efforts, QM's first step was to isolate the contaminated area by enclosing it under massive domes constructed of steel and fabric membrane, the largest of which was three football fields long. Asphalt roads were built inside and around these domes, with a truck wash station at the entrance/exit, it also enclosed in a covered steel and fabric membrane structure. In fact, $8 million was spent in infrastructure before the project could begin.
Moving the Materials
All impacted PCB soils were loaded to TDG regulated long haul trucks and transported to a facility near St. Ambroise, Quebec. Extra precaution was taken by lining dump trucks and securing each load with a tarp covering to contain the hazardous materials. At the Quebec facility, the contaminated soil was burned to ash, which was then sent to a landfill.
Eyes in the Air, on the Ground
Significant environmental management and control plans were developed to monitor the effect of the operation on its surroundings. Dust levels were monitored to ensuring the integrity of the air quality both on and off site. Furthermore, a complete ground and storm water management program was undertaken, including upgrading of all ditches and water treatment program at the onsite water treatment facility.
Operating Transparently
This project's high profile within both the community and the country was attended to with numerous communications tactics to ensure messages were factual and timely and that opportunities for community feedback were given. A project website was built, information sessions were hosted, regular newsletters were sent to residents, and a community liaison met regularly with the team and the media to address and minimize any concerns.
Results
All PCB waste was removed from the 4.5 hectare site at Pottersburg Creek. A compressed timeline was realized despite the many delicate variables, and federal regulations were met by 2009. Stringent monitoring and control systems prevented the release of contaminants into the environment for the duration of the project, while transparent communications were successful in keeping stakeholders and the community up to date on efforts. The site that once occupied the hazardous waste landfills has now been remediated and re-vegetated for potential future use.
Project Info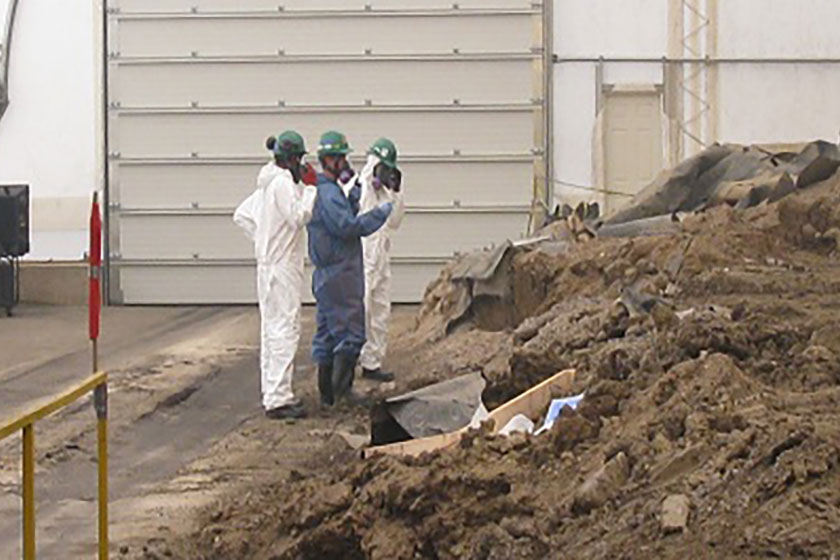 Client:
Ontario Ministry of Environment
Location:
London, Ontario
Services Used:
Demolition and Decommissioning, Environmental Remediation, Hazardous Materials Abatement
Timeframe:
2009-2011
Project Value:
$100 Million