Remedial Excavation
QM Environmental was awarded the contract for the remedial excavation of approximately 8,900 cubic meters of sediment from the West Kelowna Water Treatment Reservoir.
The construction of a creek diversion to maintain a minimum flow for downstream fish;

Bypass of the water intake for the Water Treatment Plant;

Maintenance of a backup water supply system for the Water Treatment Plant;

Dewatering of the reservoir;

Construction of a forebay rock wall;

Placement of inlet erosion protection riprap; and,

Restoration of the upland disturbed areas with coco-matting, willow plantings and hydroseeding.
Project Scope
Under the contract, QM's remediation team performed the following services, among others:
The project required the use of a one-lane gravel construction road along a steep hillside. This road was used to remove the sediment to an upland sorting and material handling area. The road required significant upgrades, including snow removal, grading and armouring with rock over geotextile to provide a safe and stable haul road.

During the project, an estimated 10 million litres of water entered the reservoir and was managed to allow the sediment to be removed. Prior to dewatering, the owner's consultant removed all fish and monitored the quality of the discharge to the creek.

Sediment was transferred to a materials handling area using rock trucks, and transferred to one of two fill sites; one for coarse grained soil operated by the City of West Kelowna, and a second privately owned site for finer grained soil. Restoration of the materials handling area included replacement of pre-existing topsoil, hydro-seeding and replacement of native trees and shrubs.

The project was completed during an unusual cold period in February. Temperatures reached lows of -25°C, creating challenges for dewatering, road maintenance and removal of ice and snow. QM was able to manage these challenges while maintaining a high safety standard for workers.
The project was completed on time and on budget.
Project Info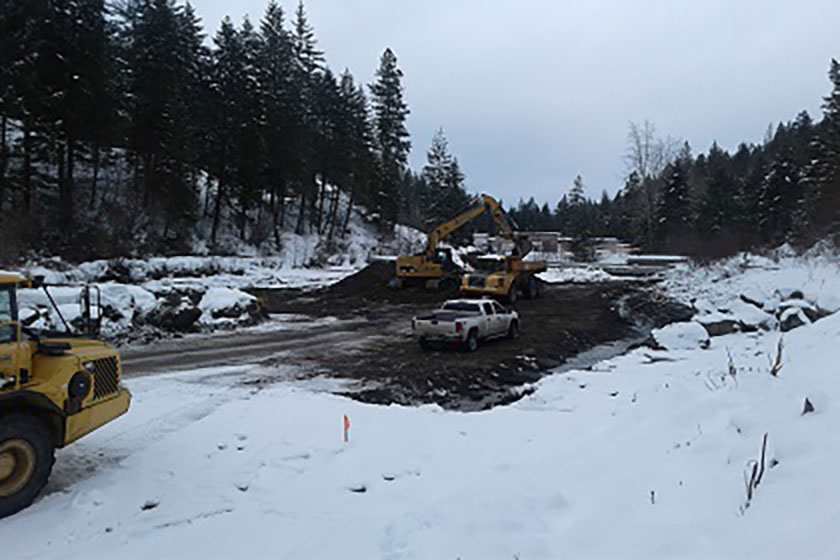 Client:
City of West Kelowna
Location:
West Kelowna, British Columbia
Services Used:
Remediation, Water Treatment and Management
Timeframe:
2018